Hamilton Fundraiser: Dinner with the Next Ontario Premier
Michelangelo Banquet Centre 1555 Upper Ottawa St, Hamilton, ON L8W 3E2
Thursday, November 9, 2023
6:00 PM
Sold Out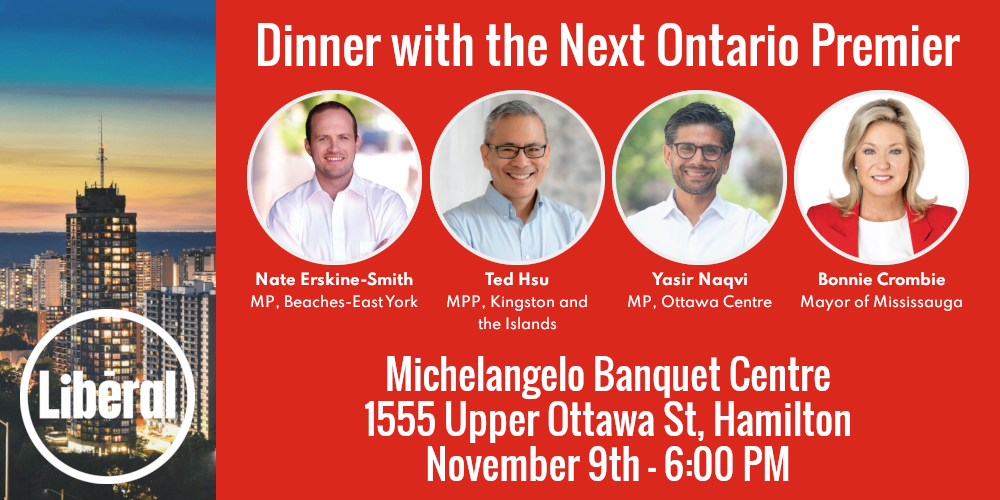 Join us in Hamilton for a fundraising dinner on Thursday, November 9th at 6:00 PM with with all four Ontario Liberal Party leadership candidates:
Bonnie Crombie, Mayor of Mississauga
Nate Erskine-Smith, MP for Beaches-East York
Ted Hsu, MPP for Kingston & the Islands
Yasir Naqvi, MP for Ottawa Centre
Not only will one of the above people be the next Leader of the Ontario Liberal Party, we are confident that they will also be the next Premier of Ontario!
Ticket sales are now closed. We look forward to seeing anyone who purchased a ticket at the event.
Authorized by the CFO of the Hamilton Mountain Provincial Liberal Association. If you have any questions, contact us at HamMtnPLA@gmail.com.