Join Kate Graham: Say no to sexism in Canadian politics
Conservative leadership candidate attacks Liberal plans to include more women in politics
Friends,
I am incredibly proud of the decisions that the Ontario Liberal Party made over the weekend to ensure that our candidates are truly representative of the diversity found across Ontario, including reducing barriers for female and younger candidates.
Yet, we still have people like federal Conservative leadership candidate Derek Solan who believe I was "wrong" to say having more women in the room leads to better decisions.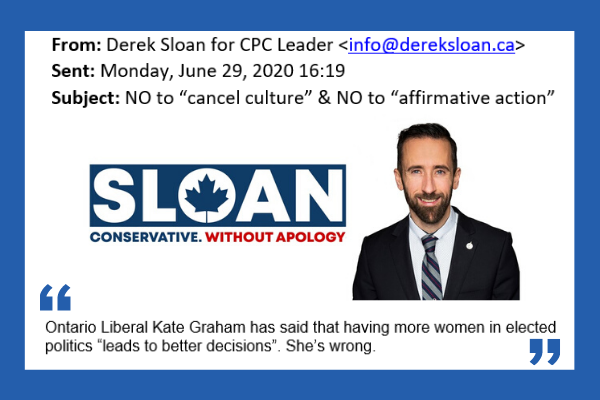 Outdated views like this are exactly what we are trying to fight and why we need more diversity in our elected representatives.
Let's send Derek and his supporters a message –my views matter, your views matter.
You can send a message to Derek directly on twitter here: @DerekSloanCPC
If you want to hear more about how to support more women in politics, not less, add your name to the petition below.
Kate Graham
Vice Chair, 2022 Campaign Committee
Add your name