Waterloo & Kitchener-Conestoga Holiday Social
Le Shin Swah 17 Erb Street East Waterloo, ON N2J 1L4
Sunday, December 12, 2021
3:00 PM – 5:00 PM
Free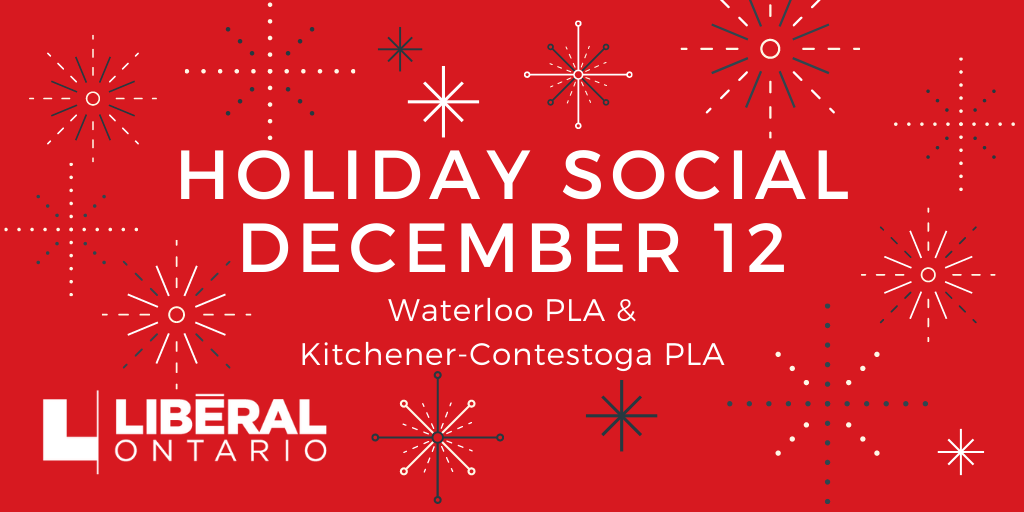 Please join the Waterloo and Kitchener-Conestoga PLAs at our joint Holiday Social event on Sunday, December 12 from 3:00 to 5:00 PM at Le Shin Swah in Waterloo. Kitchener-Conestoga candidate Melanie Van Alphen will be our special guest.
Light snacks and refreshments will be provided. There will be a cash bar. The Holiday Social is free, but voluntary donations are appreciated. You can donate to the Waterloo PLA here or the Kitchener-Conestoga PLA here.
All COVID-19 protocols required by the Government of Ontario and Region of Waterloo Public Health for restaurant settings will be followed, including requiring all attendees to show proof of double-vaccination and wear masks when not seated. In addition, food trays will be placed at each table to reduce close contact.
Please pre-register by clicking the Register button below. We look forward to seeing you on December 12th!