Grand Opening of the Tanya Vrebosch Campaign Office
Tanya Vrebosch Campaign Office 73 Lakeshore Drive, Unit 2, North Bay, ON
Saturday, May 7, 2022
12:00 PM
Free
Please join us on Saturday, May 7th from 12 pm to 2 pm for the Grand Opening of the Tanya Vrebosch Campaign Office, located at 73 Lakeshore Drive in North Bay! We also have the pleasure of being joined by the Honourable Anthony Rota, MP for Nipissing–Timiskaming and Speaker for the House of Commons.
Complimentary hot dogs and drinks will be available for your enjoyment – we look forward to seeing you!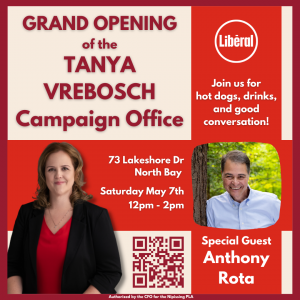 All pandemic measures will be followed.