An Evening with Paul Saguil
The National Club 303 Bay Street, Toronto, ON
Thursday, April 28, 2022
5:30 PM – 7:30 PM
Please join Alfred Apps for an evening in support of Paul Saguil, Liberal candidate for Willowdale. With special guests the Hon. David Peterson, former Premier of Ontario and the Hon. Jim Peterson, former Member of Parliament for Willowdale and former Minister for International Trade, and Dwight Duncan, former Member of Provincial Parliament for Windsor–Tecumseh and former Ontario Finance Minister.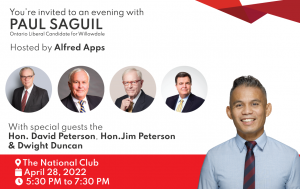 All pandemic measures will be followed.
In support of the Willowdale PLA. Tickets: Under 30, $500 | Regular: $1,000.