Patients, Not Profits Town Hall
RIM Park, Forbes Room 2001 University Ave E, Waterloo, ON N2K 4K4
Wednesday, February 15, 2023
7:30 PM – 9:30 PM
Free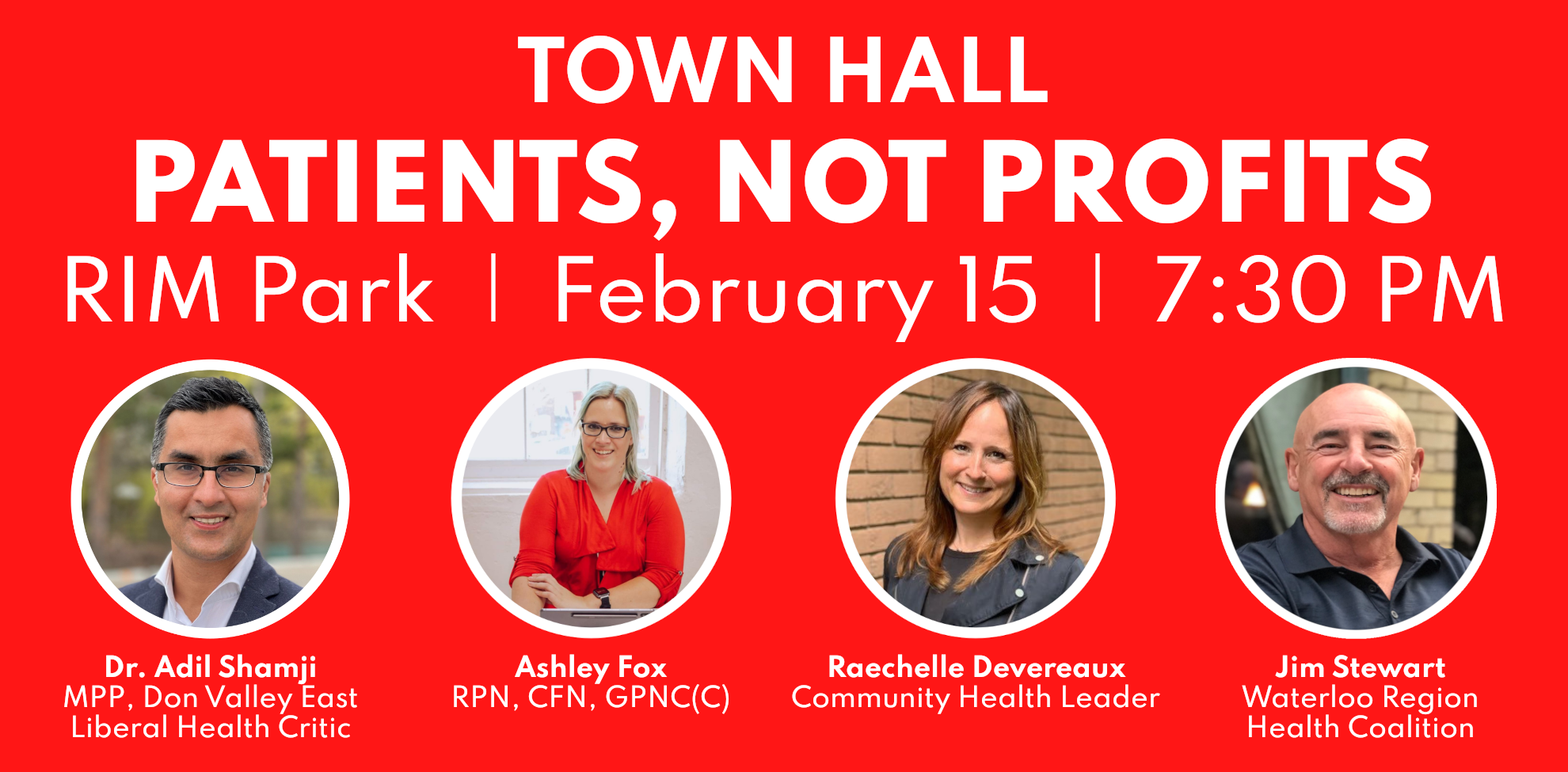 Ontarians are devastated by the dismantling and privatization of our public healthcare system by Doug Ford's Conservatives. It is more important now than ever to send Doug Ford a message by making our voices heard. Healthcare must never be compromised by corporate interests. It must be about Patients, Not Profits!
Please join us on February 15th at RIM Park in Waterloo to hear our panelists:
Dr. Adil Shamji, MPP for Don Valley East – Dr. Shamji is the Ontario Liberal Health Critic. He is a former Emergency Physician, was Medical Director for 11 homeless shelters in Toronto, provided healthcare to Indigenous nations, was a faculty member at a school of medicine, and has a Masters of Public Policy.
Ashley Fox, Registered Practical Nurse (RPN, CFN, GPNC(C)) – Ashley Fox is an outreach coordinator and nurse case manager for Promyse Home Care, a provider of nurse-managed home care. She is also an instructor at Conestoga College ("Customer Experience and the Culture of Aging in Senior Living") and a nursing advisor to The Canadian PSW Network.
Raechelle Devereaux, Community Health Leader – CEO of the Guelph Community Health Centre until 2022, Raechelle Devereaux has worked in the fields of healthcare, child welfare, and drug policy, with a focus on improving the wellbeing of our communities. In addition, she is an advocate for addressing childhood adversity and ending food insecurity and homelessness.
Jim Stewart, Chair of Waterloo Region Health Coalition – Over the past five years, Jim Stewart has built up the Waterloo Region Health Coalition to safeguard and strengthen our public healthcare system and protect the values of equity and compassion that underlie public medicare in Canada.
The town hall will be moderated by Kelly Steiss, the Ontario Liberal candidate in Kitchener Centre in 2022.
We appreciate your attendance at the event with family and friends. This is a free event and open to all.
Registration
: If you plan to join us on February 15th, please 
register here
.