Fundraising Dinner with Manal Abdullahi with Michael Coteau
Scarborough 1275 Morningside Ave., Unit 29
Friday, May 13, 2022
7:00 PM – 9:00 PM
Please join Manal Abdullahi, candidate for Scarborough–Rouge Park, and Special Guest Michael Coteau, Member of Parliament for Don Valley East, for an evening of conversation about how we're fighting to deliver a better and brighter future for Ontario.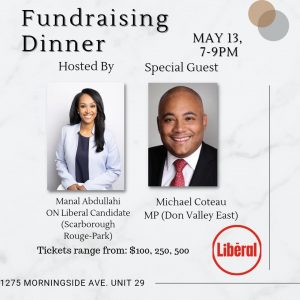 All pandemic measures will be followed.
In support of the Manal Abdullahi campaign. Tickets: $100 | $250 | $500.