An Evening of Jazz Hosted by Jaymz Bee in Support of Lee Fairclough
Home Smith Bar 21 Old Mill Road, Etobicoke, M8X 1G5
Wednesday, May 18, 2022
7:00 PM – 9:00 PM
Join us for a night of music with well known Toronto jazz artists, and engaging discussion with our candidate in Etobicoke–Lakeshore. Food and drink available for purchase.
100% of ticket proceeds will go to Lee's campaign and a tax receipt will be issued for the full ticket price. If you wish to donate a different amount, please use this link and let us know you'd like to attend so we can add you to the guest list!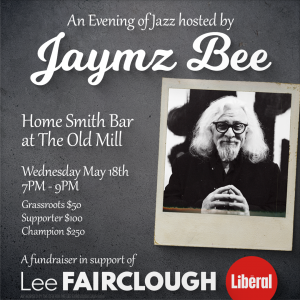 All pandemic measures will be followed.
In support of the Lee Fairclough campaign. Tickets: $50, grassroots | $100, supporter | $250, champion.