An Evening in Support of Laura Mirabella with Kathleen Wynne
Private Residence 401 and Avenue Rd Area
Wednesday, May 4, 2022
7:00 PM – 9:00 PM
Please join Laura Mirabella, Ontario Liberal candidate for Thornhill, and special guest Kathleen Wynne, former Premier of Ontario, for an evening of conversation on the ever-increasing power of women in politics and how we're fighting to deliver a better and brighter future for Ontario.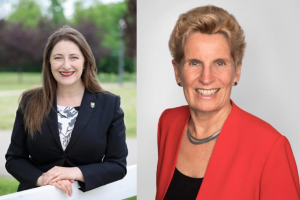 401 and Avenue Road area. Details to be provided to the ticket holders and guests.
Generous tax credits are available. Ticket proceeds to benefit the Thornhill PLA. Tickets: $1000.
All pandemic measures will be followed.
For more information, please contact Adam Reinhardt at adam.reinhardt@icloud.com or (416) 937-1259.