Guelph Picnic with Kathleen Wynne, Lyn McLeod & Andrea Hazell
Riverside Park (Red Roof Pavilion) 709 Woolwich St, Guelph N1H 7G6
Thursday, September 14, 2023
4:30 PM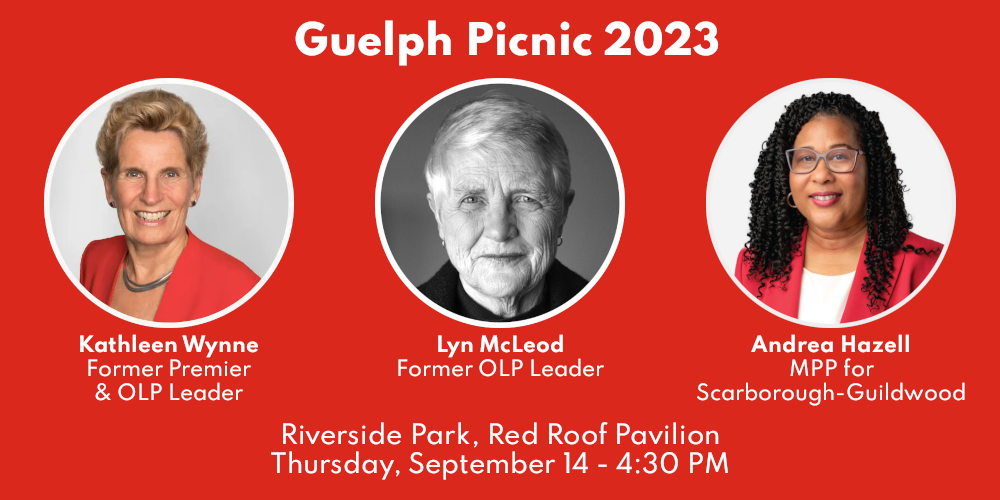 Join fellow Liberals in Guelph for some great company, food, and refreshments at the Guelph PLA Annual Picnic at Riverside Park's Red Roof Pavilion on Thursday, September 14th.
The following special guests will be in attendance:
Kathleen Wynne, former Premier and Ontario Liberal Party Leader
Lyn McLeod, former Ontario Liberal Party Leader
Andrea Hazell, MPP for Scarborough—Guildwood
Pat Sorbara, Author of "Let 'Em Howl: Lessons from a Life in Backroom Politics," based on her many years of experience in senior roles in government and the Ontario Liberal Party
After introductory comments by MPP Andrea Hazell, former Guelph MPP Liz Sandals will moderate a discussion with Kathleen Wynne, Lyn McLeod, and Pat Sorbara about their experiences with leadership campaigns. Don't miss this opportunity to learn about the experiences of past leadership contests as we prepare to select our new leader this autumn.
Registration will open at 4:30 PM and food will be served starting at 5:00 PM.
The cost is $20 per plate for adults and teens (payable at the picnic) and free for children 12 and under.
Please RSVP below. All are welcome. We look forward to seeing you there!