An Evening with Durham Candidate Granville Anderson
Old Flame Brewery 135 Perry St., Port Perry, L9L 1B8
Thursday, May 19, 2022
7:00 PM – 9:00 PM
You are invited! Please join Granville Anderson, the OLP Candidate for Durham, at the Old Flame Brewery in Port Perry, for an evening of food and drink, and productive discussions with Granville on the future of Durham and getting our community back on track!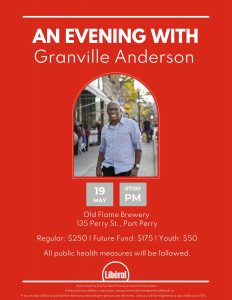 All pandemic measures will be followed.
In support of the Granville Anderson campaign. Tickets: $250, Regular | $175, Future Fund | $50, Youth (under 30) and Seniors.