Meet and Greet with Granville Anderson
Golden Girls House 100 Perry St, Port Perry, ON, L9L 1B7
Saturday, May 14, 2022
3:00 PM – 5:00 PM
Free
Join Granville Anderson in Port Perry for the second in our Meet & Greet Series! The June 2nd election is fast approaching and I want to know what is important to my neighbours in Durham! So swing by the Golden Girls House, 100 Perry St, in Port Perry to ask what my plans are for Durham on June 2nd. Looking forward to seeing you there!
Food and beverages will be provided.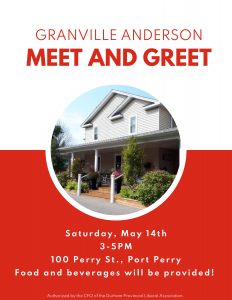 All pandemic measures will be followed.