Building our Ontario Liberal Black Caucus
Diner's Corner 678 Yonge Street, Toronto
Tuesday, May 24, 2022
7:00 PM – 9:00 PM
Sold Out
Please donate to support Granville Anderson, Ismail Mohamed, Julie Lutete, Linda McCurdy, Manal Abdullahi, Marilyn Raphael, Mitzie Hunter, Selwyn Hicks, and Catherine Mosca our Ontario Liberal Black Caucus to help them deliver a better future for Ontario.
The in person event will no longer take place on Tuesday, May 24, 2022 at Diner's Corner.
However, donations collected will continue to be directed to the Ontario Liberal Party in support of our Black Candidates.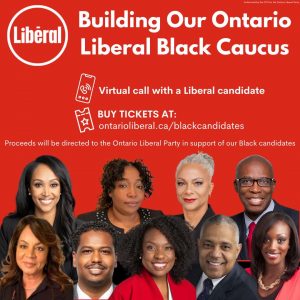 In support of the Ontario Liberal Party. Tickets: $400, cannot attend, will donate | $250, cannot attend, will donate | $100, cannot attend, will donate.
If you wish to donate a different amount, please use this link. Let Yanique Williams know you'd like to attend at yanique.will@gmail.com so we can add you to the guest list!