The climate emergency is happening now. Ontarians know this – they see it when they're driven out of their homes because of floods and fires. In intense heat waves and bitter cold fronts, breaking new records each year. Ontario used to be a global leader in climate action – then the Ford Conservatives happened, and Ontario went backwards. Their climate pitch amounted to little more than faulty gas pump stickers, a $30-million failed carbon pricing lawsuit and ripped up clean energy contracts. Carbon pollution is up, climate experts are being fired or resigning and our green spaces are shrinking.

Families are paying the costs of the Ford Conservatives' approach to the climate in higher insurance rates and food prices. Job seekers are left with a low-wage gig economy instead of a high-wage green economy.




Our Ontario Liberal plan gets Ontario back on track by tackling today's climate emergency, cleaning our air, changing how we move and creating jobs through climate action.


Tackling today's climate emergency

✅ Cut Ontario's carbon pollution in half by 2030

✅ Create 25,000 green jobs and train people for them

✅ Charge carbon polluters and reward companies who lower their emissions

✅ Protect 30% of our land and expand the Greenbelt

✅ Plant 800 million trees

Changing how we move

✅ Cut transit fares to $1 per ride until 2024

✅ Fund reliable and regional transit

✅ Make it more affordable and easier to choose an electric car

✅ Stop Highway 413 and responsibly maintain crucial highways

✅ Make it more affordable and safer to bike and walk
"Through the environmental plan we're releasing today, Ontario Liberals are offering a choice: Doug Ford, who wants to waste billions on a highway that won't improve traffic — or an Ontario Liberal government that will provide smart and affordable ways for families to make sustainable choices."
— Steven Del Duca
---
TACKLING TODAY'S CLIMATE EMERGENCY
Building an economy that pollutes less while creating jobs
Cut Ontario's carbon pollution in half 
Ontario Liberals will:
Cut carbon and methane pollution by more than 50% by 2030
Create a methane performance standard and speed up the replacement of natural gas with clean energy
Two decades ago, more and more children developed asthma and other illnesses because of air pollution. Ontario Liberals responded by closing every coal plant in the province and putting a price on carbon pollution. Carbon pollution fell by 24%, with asthma rates and smog days falling with it.
Now, we'll cut greenhouse gas emissions by 50% below 2005 levels by 2030 and achieve net-zero emissions by 2050 – meaning that Ontario reduces carbon pollution more than we create it.
Because methane is 80 times stronger than carbon dioxide, we'll also cut current methane levels in half. We'll work to reduce methane leaks and implement a methane performance standard for Ontario's natural gas to reduce emissions from home heating and support the increased use of renewable natural gas – all done in close collaboration with farmers and ranchers.
Create 25,000 green jobs and train people for them
Ontario Liberals will:
Create 25,000 green jobs
Provide new support and training for workers
Tackling the climate emergency can create good, well-paying jobs – but only if Ontario makes smart, strategic investments. Our comprehensive plan will invest a total of $9 billion over the next four years into a clean economy plan. Doing so will create 25,000 green jobs which we'll prepare people for through no-cost access to new apprenticeships, training and skills building programs. We'll also apply a climate equity lens, ensuring every community is supported through and included in our transition to a cleaner, greener province and economy.
Charge carbon polluters and reward companies who lower their emissions
Ontario Liberals will:
Improve carbon pricing for businesses and create a new carbon offset system
Provide businesses with predictable support to reduce carbon pollution 
Under the Ford Conservatives, Ontario businesses have gone through three different carbon pricing programs in just four years. We'll replace chaos with collaboration to strengthen our existing industrial carbon pricing system and ensure businesses do their part to meet our carbon pollution targets. We'll also create a robust carbon offset system to support businesses that reduce their carbon pollution while fostering innovative carbon-cutting solutions.
We'll require high-emitting industries, which create up to 30% of Ontario's total carbon pollution, to cut their emissions further by strengthening the Emissions Performance Standards in line with our 2030 target. We'll reinvest and match all proceeds into grants, tax credits and loan guarantees through a Green Jobs Fund to support made-in-Ontario clean tech and green jobs – providing industries with predictable support to lower emissions.
Ban new natural gas plants and transition to a fully clean energy supply
Ontario Liberals will:
Transition to a fully clean electricity supply
Ban new natural gas plants and phase out our reliance on it
Eliminate connection fees for rooftop solar charging panels
Support Indigenous and Northern clean energy projects
Emissions from electricity generated through natural gas are forecasted to increase by over 600% over the next 20 years. This is a huge problem – one that undermines our economic and environmental goals. To help, we'll develop a long-term energy plan that reverses the Ford Conservatives' cuts to energy conservation programs and includes the right, cost-effective mix of nuclear, hydroelectricity and renewables. We'll renew the Ontario Electricity Rebate and transition as quickly as possible to a fully clean energy supply while maintaining reliability and affordability, including by banning new natural gas plants and phasing out our reliance on gas for baseload power.
We'll also eliminate set-up connection fees for rooftop solar charging panels and bidirectional electric vehicle charging, and support projects with Indigenous and Northern communities that reduce reliance on diesel and drive electrification in the remote north – including by supporting completion of the Wataynikaneyap Transmission Project. 
Become a green hydrogen powerhouse
Ontario Liberals will:
Pursue green hydrogen generation, transportation and storage
Support business replacing carbon-emitting fuels with hydrogen
Green hydrogen is an alternative fuel generated with clean energy, but the Ford Conservatives delayed producing a clean hydrogen strategy – allowing Québec and British Columbia to surge ahead of us in this sector. Through the Green Jobs Fund, we'll support green hydrogen generation, transportation and storage across the province, including refuelling stations along Highway 401. We'll also make hydrogen attractive to investors by cutting red tape that stands in the way of new hydrogen projects while supporting industries looking to substitute their carbon-emitting fuels for green hydrogen.
Protect 30% of our land and expand the Greenbelt
Ontario Liberals will:
Create five new provincial parks
Expand the Greenbelt in step with farmers, local neighbourhoods and Indigenous communities
Designate 30% of our land as protected areas, up from 10%
Ontario Liberals created the Greenbelt and we are committed to continue protecting these natural lands. We'll use a long-term, science-based approach to bring more lands under the Greenbelt's protection in close collaboration with local and Indigenous communities and farmers. We'll also designate 30% of our land as protected areas by 2030 – up from 10% – and expand the size and number of provincial parks, including expanding Kawartha Highlands Provincial Park.
Get carbon pollution out of our air by planting 800 million trees
Ontario Liberals will:
Plant 100 million trees a year over the next eight years
Create 2,000 green jobs for young people
Forests help soak up carbon pollution and keep our air clean and a lack of trees, especially in our cities, creates a heating effect and makes us more vulnerable to flooding. We'll plant 800 million trees over the next eight years as part of the national commitment to 2 billion – focused on restoring ecosystems and protecting drinking water. Planting this many trees will be the equivalent of taking 500,000 cars off the road and will create 2,000 green jobs for graduating students who want to dedicate a year toward nature-based solutions and engaging local communities on climate action and resilience. Municipalities and every household in Ontario with a yard will be able to get trees through this initiative.
Protect our nature, water and endangered species
Ontario Liberals will:
Repeal the Ford Conservatives' harmful changes to conservation and environmental legislation
Work with local governments and Indigenous communities to prepare for extreme weather
Clean up and reduce pollution in our rivers and lakes
Support best practices in farming and agriculture
Better protect endangered and exotic animals
Ontarians love our natural environment and want to see it protected. We agree, so we'll repeal the Ford Conservatives' environmentally-harmful changes to legislation related to conservation, land planning, the environment and endangered species. We'll also strengthen the powers of Ontario's Conservation Authorities to prevent flooding and protect green spaces, farmland, drinking water, biodiversity and species at risk. We'll restore and expand natural infrastructure like wetlands and green roofs and support communities in becoming more resilient to extreme weather through a new $250 million annual fund.
We'll work closely with municipalities and Indigenous communities to protect and restore Ontario's rivers, lakes, wetlands and watersheds – including Moose Cree First Nation and Kitchenuhmaykoosib Inninuwug. And we'll strengthen oversight and environmental protections over gravel and aggregate mining before approving new mines. We'll clean up the mercury contamination in the St. Clair and English-Wabigoon River system and reduce pollution in Lake Simcoe and the Great Lakes – including lowering road salt runoff harming aquatic ecosystems. We'll also help municipalities install microplastic filtration in drinking and wastewater systems.
Finally, we'll build a more resilient and sustainable agricultural sector by supporting best practices that keep soil healthy and maximize carbon storage. And we'll strengthen regulations for zoos and wild exotic animals, including greater restrictions on the breeding and sale of exotic animals.
Cut landfill use by more than half  
Ontario Liberals will:
Divert and recycle 60% of waste from landfills by 2030, and 85% by 2050
Use organic waste to generate renewable energy
Reduce plastic pollution and restrict some single-use plastics
Ontario is one of the largest creators of waste per person in the entire world and at current rates we'll run out of landfill capacity in the next 11 to 14 years. As a province, we need to waste less and reuse more.
To help, we'll divert and recycle 60% of waste from landfills by 2030 and 85% by 2050. We'll update ineffective waste management and recycling in industrial and commercial sectors and hold polluters accountable for their waste. We'll also expand the list of products that can be recycled in Blue Bins and implement a landfill ban for food and organic waste – requiring Green Bin programs to work with farmers and fuel producers to harness organic waste for renewable natural gas and reduce methane emissions.
Finally, we'll prevent plastic products from becoming pollution in the first place by restricting certain harmful single-use products, establishing strong standards for plastics – including how much has to be recycled content and encouraging businesses to use packaging made from biomass-based polymers.
Take the politics out of climate action
Ontario Liberals will:
Get all parties working together on climate action
Mandate climate risk reporting for public companies
Become a net-zero government by 2030
When it comes to climate action, we'll be transparent in our progress and accountable for our results through an independent Environmental Commissioner. We'll take the politics out of climate action by creating an all-party Cabinet committee to find new ways to tackle carbon pollution. We'll also mandate climate risk reporting and disclosures for public companies.
Committed to leading by example, we'll also make the Ontario government net zero by 2030 – swiftly reducing emissions from public service infrastructure and procurement, including leveraging made-in-Ontario clean technologies and issuing more green bonds. We'll also govern based on a science-first approach – bringing back the position of Chief Scientist to do so.
Prepare our homes and buildings for climate change
Ontario Liberals will:
Provide grants and interest-free loans to retrofit homes and buildings
Update building codes to energy-efficient and climate resilient standards
Make retrofits to schools, hospitals and other public sector buildings
Make it easier to improve energy efficiency and reduce climate risks
We need to retrofit our homes and buildings to address air pollution and climate change. For instance, heating contributes about 20% of Ontario's total emissions – and most homes are not prepared for more frequent flooding. Retrofits also lower families' energy bills. We'll provide 100,000 easy to access grants of up to $3,000 each year for people and businesses to make high-performance energy and climate-resiliency retrofits, including new windows, insulation, heat pumps and flood protection, in addition to providing interest-free loans for deeper retrofits. We'll also retrofit schools, hospitals, colleges, universities, social housing and other public sector buildings to make them energy efficient and climate resilient.
We'll update the Ontario Building Code so all new buildings and renovations are built to leading energy-efficiency and climate resiliency standards by 2025. We'll position Ontario's forestry sector to lead the way with low-carbon building materials, including making it easier to build tall wood and prefabricated buildings.
As well, families learn too late the terrible toll fires and floods can have. We'll work with municipalities, real estate and insurance leaders to inform people on how they can take action about energy efficiency and flooding or other climate risks for their homes and buildings.
---
CHANGING HOW WE MOVE
Saving people money and protecting our clean air
Cut transit fares to $1 per ride until 2024
Ontario Liberals will:
Cut the cost of public transit fares to $1 per ride until 2024
Lower fares for people transferring between transit systems
Make transit completely free for veterans
Riding on transit creates so many wins for Ontario. It gets cars off the road, moves a greater number of people around the province and can be a more affordable alternative to driving. We want to save people money and move more people on transit – especially right now, as ridership is still a fraction of pre-pandemic levels.
We're going to cut public transit fares to $1.00 per ride and $40 for monthly passes until January 2024. This fare rate will be applied to all public transit in Ontario – including municipal, GO and Ontario Northland transit, with the province fully replacing transit systems' lost revenue. This measure will get an estimated 400,000 car trips off the road each day on top of making transit trips more affordable.
We also don't believe people transferring from one transit service to another should be punished with higher costs, so for the long-term we'll work to integrate fares between transit services within the Greater Toronto and Hamilton Area, ensuring everyone pays less than they do today. Finally, to honour and thank our veterans year round, we'll make public transit free for all Canadian Armed Forces veterans.
Fund reliable and regional transit
Ontario Liberals will:
Close gaps in transit networks in every region of Ontario
Reverse the Ford Conservatives' selling off of railways
Right now, gasoline and diesel-powered vehicles make up about 35% of Ontario's total carbon pollution – making our air harder to breathe, getting people sick and worsening extreme weather caused by climate change. Public transit is the best tool to reduce traffic and have fewer cars on the road, but the pandemic hit local transit services hard. On top of any pandemic emergency funds we provide, we'll invest an additional $375 million in annual transit operating funding – supporting more routes, extended hours of service, improved accessibility and more intercity connections.
Since transit is limited or non-existent in too many parts of the province, we'll make Community Transportation Grants permanent for smaller and rural communities to pay for transit and we'll empower leaders in Northern, Southwestern and Eastern Ontario to coordinate regional transit planning.
Finally, we'll reverse the Ford Conservatives' changes that make it easier to abandon and sell off railway lines. These railways can provide efficient and environmentally-friendly freight movement, relieve congestion on our busy highways and act as potential corridors for future low-cost rail trips. To start, we'll save the endangered Barrie-Collingwood Railway and Orangeville-Brampton Railway.
Build more transit now
Ontario Liberals will:
Expand public transit throughout the province
Finish all transit plans already funded
Better engage local communities on transit projects
Frequent, accessible transit can transform neighbourhoods and empower people to choose transit. We'll build dozens of new transit projects across the province – funding lines and stations that will improve people's lives and make it easier to use transit, including:
High Frequency Rail to increase passenger rail service between Windsor, London, Brantford and Toronto, as well as between Toronto, Peterborough, Ottawa and Québec in collaboration with federal partners
The Waterloo Region ION LRT extension from Kitchener to downtown Cambridge
Two-way all-day Milton GO service seven days a week, and improved GO bus service in Dufferin County
The Hurontario LRT extension further north along Main Street to Brampton GO
The expansion of Brampton bus rapid transit, including along Queen Street and extending the Highway 7 Rapidway to the west
Mississauga's Hurontario LRT loop around Square One that the Ford Conservatives cut
The Lakeshore East GO line extension from Oshawa to Bowmanville
Stage 3 of Ottawa's regional transit plan, applying the lessons learned from the first two stages
The Eglinton East LRT extension to the University of Toronto Scarborough and Malvern
The Sheppard Subway extension to connect to the new Scarborough Subway Extension
The Waterfront LRT to extend service along the waterfront in Toronto
Regular GO train service between London, Kitchener and Toronto to reduce travel times by at least 45 minutes
Bus rapid transit along Steeles Avenue to serve neighbourhoods on the boundary of York Region and Toronto
Reduced transfer times at Union Station for those travelling between Southwestern and Eastern Ontario
We'll build this new transit in a way that genuinely communicates, requiring Metrolinx to provide greater transparency, engagement and community benefits – like improvements to public spaces and relief for impacted small businesses.
As well, for too long changing governments in Ontario have ripped up or ignored existing transit plans, delaying progress and contributing to more gridlock and air pollution and higher costs. We'll put an end to political games by maintaining all existing funded transit plans – getting shovels in the ground over the next four years on:
GO Expansion and electrification, delivering two-way all-day service throughout the GTHA while adding 10 new stations
Two-way, all-day GO rail service between Toronto and Kitchener-Waterloo and Toronto and Niagara
Bus Rapid Transit in London
Hamilton LRT from McMaster University through downtown Hamilton to Eastgate, as well as a new Confederation GO rail station in East Hamilton
Hurontario LRT between Mississauga and Brampton and dedicated bus rapid transit projects in Mississauga
Durham-Scarborough bus rapid transit through Oshawa, Whitby, Ajax, Pickering and Scarborough
The Ontario Line from Exhibition Place through downtown Toronto and to the Ontario Science Centre
The Yonge North Subway Extension extending into Vaughan, Markham and Richmond Hill
The Scarborough Subway Extension, extending to Sheppard Avenue
Eglinton Crosstown LRT, connecting west and east Toronto with 25 new stops and extending to Pearson Airport
Finch West LRT connecting from Humber College to Finch West Station
Make it more affordable and easier to choose an electric car
Ontario Liberals will:
Provide up to $9,500 in rebates on electric vehicles and charging equipment
Expand the availability of electric vehicle chargers
Require all new passenger vehicles sold in Ontario be zero-emission by 2035
We'll help people replace polluting cars and trucks with electric or zero-emission ones by introducing an up to $8,000 rebate, in addition to the existing $5,000 federal rebate, on the purchase or lease of a non-luxury electric vehicle (up to $65,000 retail price) and $1,500 for charging equipment.
Despite the benefits that electric vehicles create for our air, climate and Ontario's economy, the Ford Conservatives cancelled funding for home charging stations, ripped out charging stations that had already been installed and removed charging station rough-ins from Ontario's building code – all of which we'll reverse. We'll rapidly expand the availability of vehicle charging stations in buildings, parking lots, city streets and all OnRoute and GO stations. Finally, we'll mandate that at least 60% of all new passenger vehicles sold in Ontario are zero-emission by 2030 and 100% by 2035.
Get more businesses to use zero-emission vehicles
Ontario Liberals will:
Create zero-emission mandates for medium- and heavy-duty vehicles, like shipping trucks
Mandate electric vehicles and equipment across the public sector
Electrify GO trains, public transit and school buses
It's not enough to help families drive cars that don't pollute. We'll work with industry and partners to create zero-emission vehicle mandates for medium- and heavy-duty vehicles, like shipping trucks, and immediately require that the public sector only buy zero-emission vehicles and equipment. We'll also work with businesses to promote the use of sustainable alternative fuels in shipping, trucking and aviation, which can reduce carbon pollution by more than 90%. And we'll continue electrifying all GO trains, public transit and school buses.
Make Ontario the place electric batteries and vehicles are made and sold
Ontario Liberals will:
Lead electric battery manufacturing in North America
Launch a dedicated fund for the next generation of electric batteries
Unlock Northern Ontario's metal and mineral reserves
As the global demand for electric vehicles and batteries continues to rise, the industry will be a major job creator – and we'll bring those jobs to Ontario. We'll lead on the creation of a North American Battery Alliance, leveraging our automotive supply expertise to ensure Ontario's battery and electric vehicle manufacturing sector is globally competitive. We'll also launch a dedicated fund to fill gaps in the electric battery supply chain and commercialize next generation battery technology and recycling. Finally, we'll unlock Northern Ontario's reserves of sustainable battery metals and minerals to ensure that Northern Ontario communities, including Indigenous peoples, are the long-term benefactors of this industry while protecting the ecological and cultural values of the region.
Stop Highway 413, reassess the Bradford Bypass and responsibly maintain crucial highways
Ontario Liberals will:
Scrap the ill-advised Highway 413 project, reinvesting the savings in school repairs
Reassess the proposed Bradford Bypass' environmental impact
Responsibly maintain existing highways to keep people safe and moving
We'll stop Highway 413, the Ford Conservatives' project that would only shave an average of 30 seconds off of commutes while paving over important wetlands and farmland. Instead, we'll focus on investing in transit and building more walkable, livable communities, including Brampton's urban boulevard alternative – investing the significant savings from this unnecessary highway into new and repaired schools, including upgraded ventilation systems. We'll also pause any further work on the proposed Bradford Bypass until a new environmental assessment is done – since the current assessment hasn't been updated since 1997. If this assessment fails to meet environmental and community standards, we'll stop the Bradford Bypass just like Highway 413.
Finally, we'll responsibly manage and maintain Ontario's important provincial highways, investing in strategic projects that keep people safe and moving, including:
Widening Highway 401 at targeted bottlenecks, including from Milton to Mississauga and between Pickering and Bowmanville
Finishing the Morriston Bypass to enhance Highway 6 between Guelph and Hamilton
A new Highway 7 between Kitchener and Guelph
Twinning the Garden City Skyway in Niagara
Four-laning Highway 3 from Windsor to Leamington
Adding additional High-Occupancy Toll Lanes that are free to electric vehicles on more provincial highways
Make it more affordable and safer to bike, walk and drive
Ontario Liberals will:
Provide a $500 rebate for e-bikes
Expand cycling lanes and trails and make it easier to find and park bikes
Work to eliminate road fatalities and serious road injuries
Make it cheaper to install winter tires
We want people to get around in active ways that don't pollute. To complement our electric vehicle rebates, we will provide a 30% rebate for new electric bikes, mopeds or motorcycles up to $500. We'll provide communities with $100 million annually to build separated bike lanes and cycling trails, expand bike sharing and rental services and secure bike parking.
We'll also make it safer for cyclists and pedestrians to get around and set a goal to achieve zero fatalities or serious road injuries. We'll do this by supporting common-sense road designs that improve safety and reduce collisions, and we'll increase penalties for driving offences that result in fatalities or serious injuries. To encourage safer winter driving, we'll introduce a refundable tax credit of $75 per winter tire and $100 per studded tire in Northern Ontario.
---
APPENDIX. Targets For Cutting Emissions
Our track records are clear: Conservatives increase carbon pollution and Liberals cut it. Our ambitious plan to cut greenhouse gas emissions by 50% of 2005 levels will see carbon pollution in Ontario drop significantly more than what would happen under the Ford Conservatives' approach. Below find the rate of those cuts leading up to 2030, and which initiatives will contribute.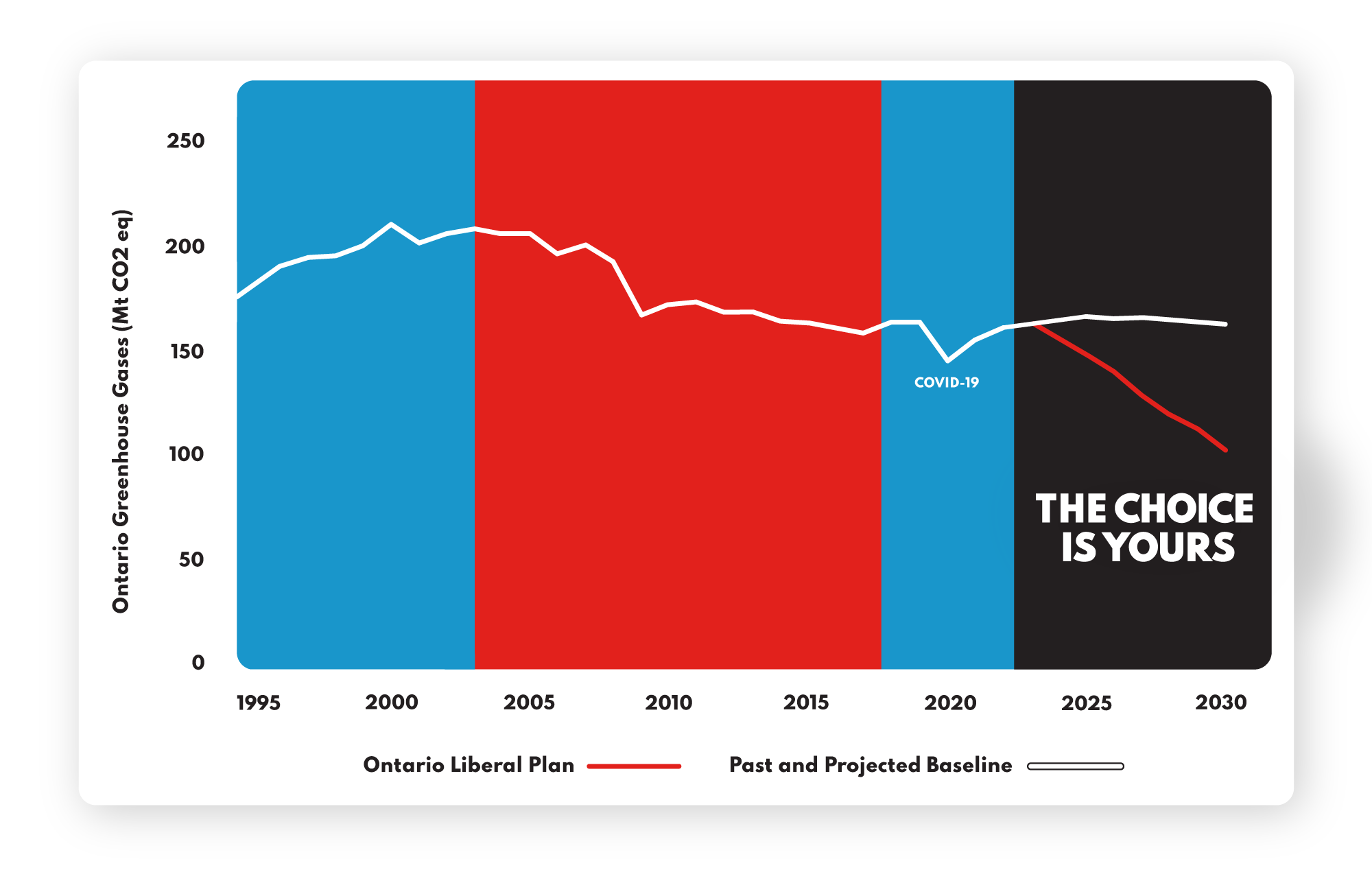 Greenhouse Gas Emissions (Mt CO2 equivalent)
| | | | | | | | | | |
| --- | --- | --- | --- | --- | --- | --- | --- | --- | --- |
| | 2022 | 2023 | 2024 | 2025 | 2026 | 2027 | 2028 | 2029 | 2030 |
| Current Baseline (Environment and Climate Change Canada) | 161.4 | 163.0 | 164.6 | 166.2 | 165.4 | 164.6 | 163.8 | 162.9 | 162.0 |
| Federal Carbon Price and Planned Initiatives | -2.5 | -4.5 | -7.0 | -9.5 | -14.2 | -21.3 | -25.4 | -29.5 | -34.9 |
| Cutting Methane and Landfills | – | -0.2 | -1.3 | -2.5 | -3.7 | -5.3 | -5.7 | -6.1 | -6.5 |
| Nature-Based Solutions | – | – | – | -0.5 | -1.0 | -1.5 | -2.0 | -2.5 | -2.5 |
| Electric Vehicles | – | -0.2 | -0.4 | -0.7 | -0.9 | -0.9 | -0.9 | -0.9 | -0.9 |
| Public Transit | – | -0.5 | -0.5 | -0.5 | -0.5 | -0.5 | -0.5 | -0.5 | -0.5 |
| Energy-Efficient Buildings | – | – | – | -0.5 | -1.0 | -1.5 | -2.0 | -2.5 | -3.0 |
| Industrial Carbon Price and Offsets | 1.2 | 1.4 | 0.7 | 0.0 | -0.8 | -1.6 | -2.4 | -3.2 | -4.0 |
| Green Jobs Fund | – | – | – | -0.5 | -1.0 | -1.5 | -2.5 | -3.0 | -3.5 |
| Clean Energy Supply | 0.8 | 0.0 | 0.0 | -0.6 | -1.2 | -1.8 | -2.4 | -3.1 | -5.0 |
| Progress to 2030 Target (Mt) (relative to 2019) | -0.5 | -4.0 | -8.5 | -15.3 | -24.3 | -35.9 | -43.8 | -51.3 | -60.7 |
| Progress to 2030 Target (% off 2005 level of 206 Mt) | -21% | -23% | -24% | -27% | -32% | -38% | -42% | -46% | -50% |