Only Steven Del Duca has a comprehensive affordability plan and will cut gas taxes
MISSISSAUGA – In 2018, Doug Ford stood in front of a gas station and promised to reduce gas prices by 10 cents per litre. He broke that promise. 
At the same time, Doug Ford warned that gas prices would skyrocket to $2 per litre if he didn't win. Despite those promises, the Ford Conservatives did nothing over the past 18 months as gas prices doubled, eventually climbing over $2 per litre. Just days before the election was called, Ford finally acted, but made families pay more until the election was over.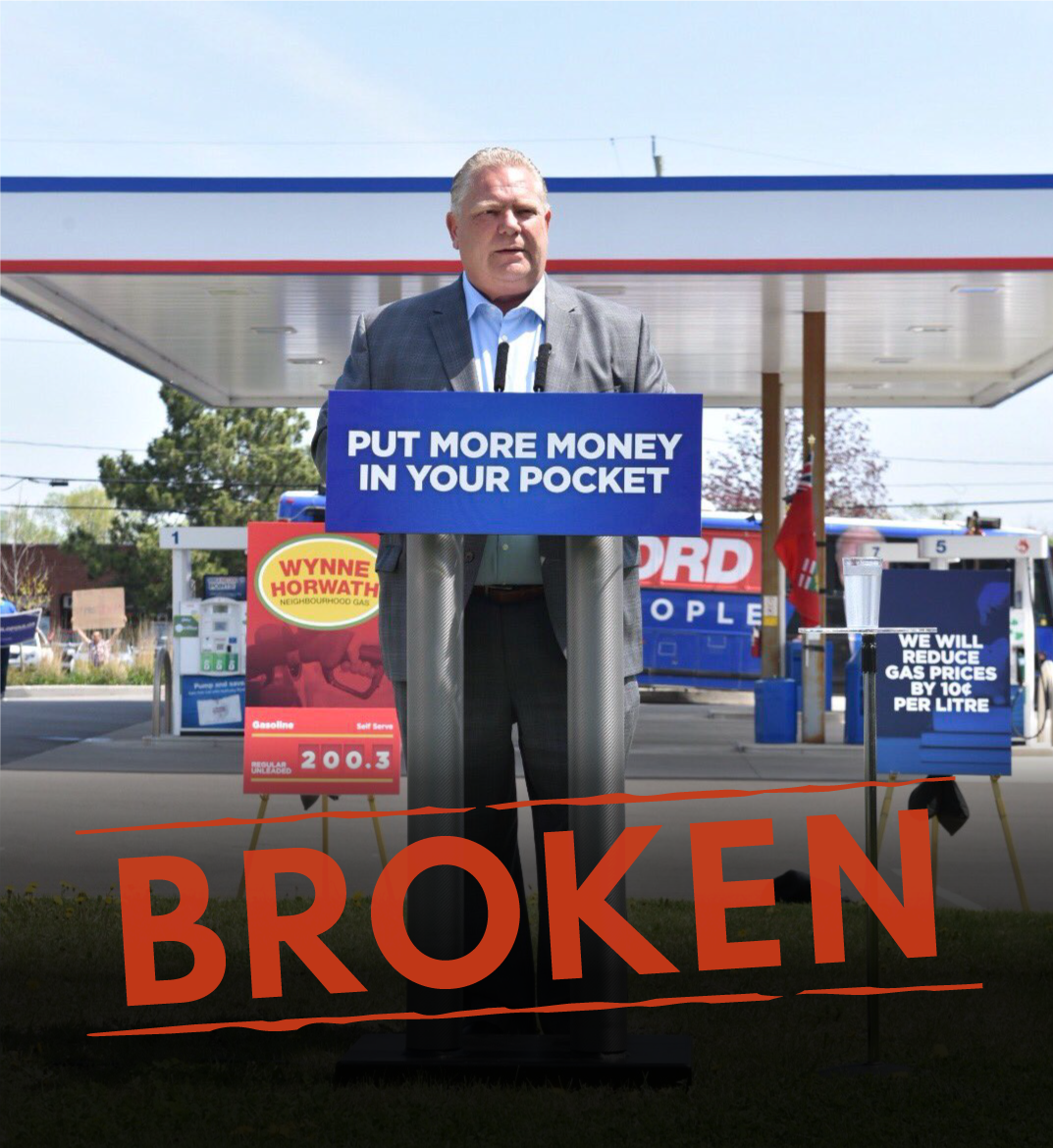 Doug Ford, May 2018
"Doug Ford did nothing as gas prices rose week after week and waited until just before the election because he cared about his job more than your own. Doug Ford claiming he was "for the people" was the biggest lie told in the last election," said Del Duca. "Families need urgent action to get this affordability crisis under control. Ontario Liberals have a 19-point Affordability Pledge that can save the typical family $50 every workday – or more – with savings on food, transit, child care and at the pumps." 
The 18th point of the 19-point Ontario Liberal Affordability Pledge cuts gas tax by 5.7 cents per litre and the fuel tax by 5.3 cents per litre for a period of six months beginning July 1st. 
Andrea Horwath's NDP latest platform includes collecting $600 million in additional gas taxes in 2022. In order to do this, they would recall the Legislature to introduce new legislation to raise the currently legislated gas tax as one of their first acts.
The 19-point Ontario Liberal Party Affordability Pledge includes: 
Slash all public transit fares across the province to $1.

Increase Old Age Security by $1,000 for low-income seniors.




Remove the provincial HST off of prepared foods under $20.

Bring back rent control for all homes.

Increase the minimum wage to $16 an hour and introduce a regional living wage.

Refund families $2,750 per child through retroactive child care fees to January 1st.

Implement $10/day before- and after-school care.

Give new parents 18 months parental leave without cutting EI payments.

Help families buy a modest electric car and energy-efficient renovations. 

Expand tax credits for seniors renovating their homes and for their caregivers.

Provide every worker prescription drug benefits, dental care, vision care, mental health care and retirement savings.




Pay our healthcare workers more, by scrapping the wage-capping Bill 124 and introducing a minimum wage of $25 an hour for Personal Support Workers. 

Eliminate interest on provincial student loans and make OSAP more generous.

Build and sell affordable new homes to first-time home buyers.

Eliminate incorporation fees for new businesses and start-ups. 

Tax refunds of $75 per winter tire and $100 per studded tire in Northern Ontario. 

Maintain elimination of licence plate renewal fees and tolls on highways 412 and 418. 

Reduce gas taxes by 5.7 cents per litre and the fuel tax by 5.3 cents per litre for a period of six months beginning July 1st. 

Increase the eligibility for the Low-Income Individuals and Families (LIFT) tax credit from $38,000 to $50,000.