Hon. Doug Ford
Premier of Ontario
Legislative Building
Queen's Park
Toronto ON M7A 1A1
Dear Premier Ford,
Ontario's municipalities are facing unprecedented hardship as a result of the Covid-19 pandemic. In order to stave off a crisis, they will need both the provincial and federal governments to step-in and provide significant and urgent financial support. As you know, they are not permitted to run budgetary deficits and the shortfall that many are facing cannot be made up by property tax increases.
As a result, I am urging to you demonstrate clear leadership and support our municipal partners in three concrete ways:
Create the Ontario Emergency Municipal Support Fund which would make available a minimum of $4 billion, cost-shared with the federal government, to provide urgent relief funding to municipalities facing financial hardship;
Immediately double the funding provided to qualifying municipalities in 2019 through the existing Provincial Gas Tax Program so that those communities with local public transit have the support needed to continue operating their systems without fare increases; and,
Expedite provincial infrastructure funding to already-approved and viable projects that municipalities have previously budgeted for as a form of important local and regional economic stimulus.
When Ontario fully re-opens, we will need to do everything we can to get the economy going. But our 444 municipalities cannot wait – they need your help now.
The nearly 15 million people who call Ontario home rely on the essential services provided by their local municipalities and without a significant financial bridge, many communities will be forced to make draconian decisions that will only jeopardize our long-term health and prosperity.
It is also extremely important for me to convey that the challenge being faced by our local communities does not require a "one-size-fits-all" solution. Each municipality will have different needs and so I further urge you to work closely with organizations like the Association of Municipalities of Ontario (AMO), the Large Urban Mayors Caucus of Ontario (LUMCO), the Rural Ontario Municipal Association (ROMA) and others to ensure that we get it right.
I will continue to speak with municipal leaders from across Ontario in order to better understand their respective needs, and I look forward to hearing more from you about how you will deal with this urgent situation.
Regards,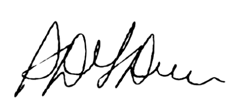 Steven Del Duca
Leader, Ontario Liberal Party